Online shop closed indefinitely, for now. Only accepting custom orders by request. Stay tuned by following on
Instagram
!
4oz Fire Sign Zodiac Crystal Candle – Aries Candle – Leo Candle – Sagittarius Candle
Collection: Elemental.
Scent Overview: Spiced Honey + Tonka and Campfire.
Crystals: Carnelian Crystal Chips.
Color: Orange.
Size & Burn Time: 4oz natural soy wax. Approximate burn time: 25-35 hours.
Vessel: Hand-poured in amber glass jar that was manufactured in USA.
The orange Fire candle is imbued with carnelian crystal chips and scented with Spiced Honey + Tonka and Campfire.
The Light side of the Fire element embodies passion, creation, and dedication. The Dark side of the Fire element includes destruction, anger, and narcissism. For those with an interest in Western astrology, the 3 Fire elements are Aries, Leo, and Sagittarius.
Light a Fire Candle to help you transform any pent-up anger into creative outlets. Look at the flame as you release increased passion and drive towards those endeavors that will most fulfill you.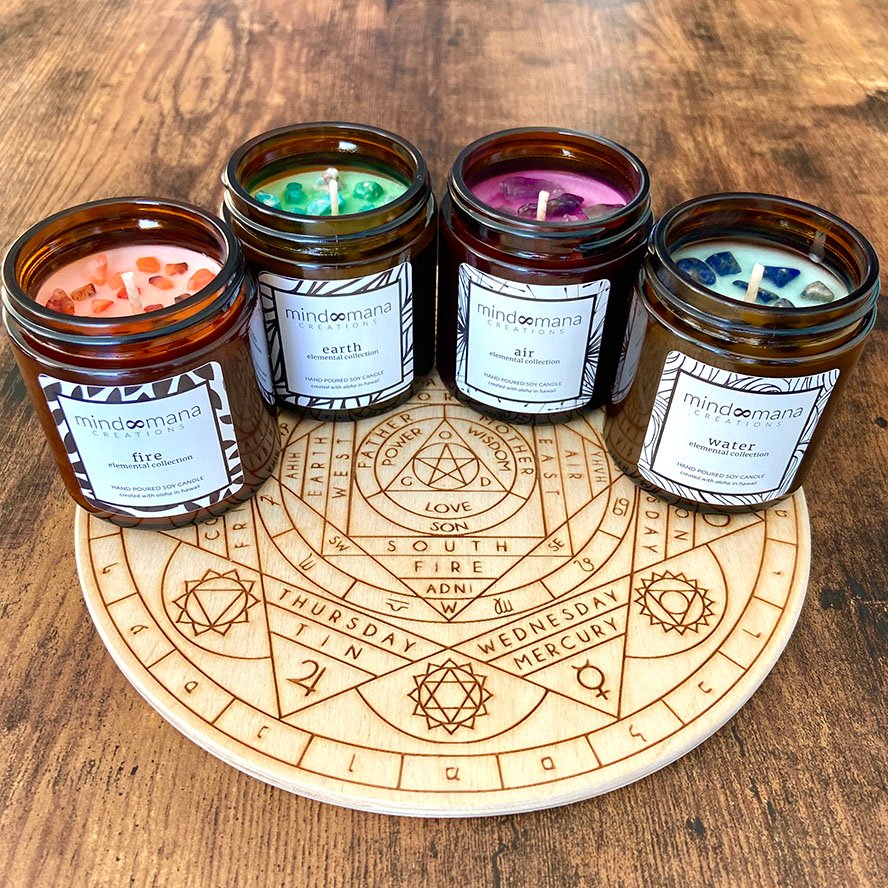 100% handmade soy wax candles - variations in crystal, herbs, charms, color, texture, and appearance from candle to candle and are considered normal, expected and not a defect.
***Some candles may have "frosting" on the top and sides, this is a completely natural effect of 100% soy wax, is not a defect, and does not affect burn ability or scent throw.***
Shipping:
Candles are shipped via USPS Priority Mail from Honolulu, Hawaii and delivery typically takes 3 to 7+ days from shipment date (shipment tracking # is included!). I send you an email with the shipment tracking # when your order ships.
Be aware that due to COVID and limited USPS staffing, that shipments maybe delayed.
NOTE: Currently only shipping within all 50 U.S. states from Hawaii. Will consider shipping U.S. territories or internationally on case by case basis via custom order.
Exchange Policy:
I will consider exchanges on a case-by-case basis. Used candles cannot be refunded or returned. If your candle is burning incorrectly or damaged during shipment, please send photographs of the candle and the packaging so I can assess what is best.
Disclaimer:
Mind Mana Creations assumes no responsibility for any damage that may occur due to misuse or improper handling. A burning candle should always have adult supervision, be placed apart from drafts and wind, and be kept out of the reach of children.
I feel that candles, crystals, herbs, and charms can complement other therapies and support energetic well being. The benefits cited come from various sources of lore, and are in no way a substitute for medical advice, treatment or diagnosis.